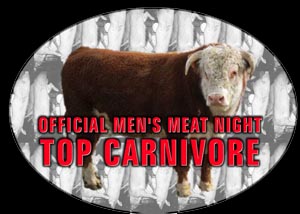 Introduction
Some time, not too long ago, we lost our way. We caved in. We started worrying about what was 'politically correct', instead of what was right. Suddenly things we had been doing for centuries were against the status quo, and shunned by the masses and the media. We have become a homogenized society of sappy tree-hugging earth muffins, and I for one think it's time to stop. It's time to get back to our primitive roots, to savor in the triumphs of mankind. It's time to get back to what makes us who we are, to what makes us human beings. It's time to eat meat.
Thus, Men's Meat Night was started.
Now, you may think that Men's Meat Night is about killing animals. It's not- it's about eating them. Lots of them. It's about getting back to our primitive caveman roots and just letting that natural instinct savor the moment of the hunt and the feast. Only without the whole messy (and sometimes dangerous) hunting part. Men's Meat Night reduces this down to it's barest essence, and in a much safer environment too. Here men are free to do whatever comes natural to them. Grunt. Belch. Have seconds... twice. If you are moved from within ...for whatever reason... go with it. Be free, my manly bretheren.
Mission Statement
To promote the awareness and consumption of meat, and to support the industries which supply meat and meat related products.
Men's Meat Night Eight was held at Rainin' Ribs BBQ and Smokehouse (http://raininribs.com/) in Lake Forest Park, WA, and it was a huge success! 25 hungry carnivores feasted for nearly three hours on pounds and pounds of cow and piggy goodness. At the end of the night, newcomer "Turbo" Tim walked away with the crown, eating enough meat to feed a small village. Close behind him was "Crazy" Craig Z., after eating through two giant helpings of ribs and pork.
PICTURES FROM MEN'S MEAT NIGHT EIGHT!!!
Men's Meat Night Seven was held at the Time Out Burger in Mountlake Terrace! Once again herds of hungry meat eaters descended to feast on large amounts of burger goodness. Not satisfied with just the standard 1/3lb Time Out Bacon Burger, we had special 2/3lb SUPER Time Out Bacon Burgers made just for our occasion. When it was all said and done, James B. secured his place in history by becoming the second two-time MMN Champion! Who will it be next time? We'll just have to wait and see!
PICTURES FROM MEN'S MEAT NIGHT SEVEN!!!
Men's Meat Night Six was the biggest event ever! On Sunday, March 9th, thirty carnivores once again descended on the Bear Pit BBQ (http://www.thestranger.com/2003-03-06/chow2.html). When the dust had cleared we had devoured forty pounds of piggy flesh (and assorted poultry), and a new champion was crowned... Brad S.! Pounding over two pounds of piggy in kingly fashion, Brad received the coveted crown and adoration of all who attended. Not even the vegetarian rantings of a lunatic protestor would stop us from enjoying the glory of cooked meats and fritters. Enjoy the pictures!
PICTURES FROM MEN'S MEAT NIGHT SIX!!!
The Fifth Men's Meat Night was truly a historic event...on Sunday, August 4th, 2002, former MMN Champ (and owner of the World Famous Bear Pit BBQ), Arlen T. becames the first ever TWO-TIME Champion of Men's Meat Night, pounding away three full pounds of ribs, as well as various amounts of sides. Check out the pictures below for a full account of the feastings!
PICTURES FROM MEN'S MEAT NIGHT FIVE!!!
The Fourth Men's Meat Night was a smashing success... on January 27th we descended on the Bear Pit BBQ in Burien in a frenzy of pure meat-eating gluttony. This time we had 22 carnivores brave the elements to prove their love for dead animals, and when the smoke was all cleared a new Top Carnivore was crowned. James B. ate his way through nearly four pounds of ribs to become the undisputed champion of Men's Meat Night 4. Check out the link below for the pictures and all the details.
PICTURES FROM MEN'S MEAT NIGHT FOUR
MORE PICTURES!








PICTURES FROM THE SECOND MEN'S MEAT NIGHT ARE BELOW
Click on the thumbnail for the enlarged picture.
| | | | | | | |
| --- | --- | --- | --- | --- | --- | --- |
| | | | | | | |
| THE CHAMP "MEATS" HIS MATCH! | RIGHT BEFORE THE FEASTING... | NICE RACK! | READY FOR MEAT! | MMMMM.... MEAT..... | GIVE US MEAT..... | GIANT HUNK OF COW FAT! |
| | | |
| --- | --- | --- |
| The bill! | The Story! | The main course! |
| | Our second Men's Meat Night was a raging success! We had ten hungry carnivores this time, and we feasted at the Redmond Claim Jumper Restaurant. "Comic Book Guy" Pablo took on our reigning champion Arlen T. in a battle to end all battles! When the dust had cleared, they BOTH had plowed through 26 ounce steaks, as well as various sides, breads, and desserts. We'll have to find a place with bigger steaks for next time, as they were just too manly for these portions. You two are truly an inspiration to us all. Well Done! (literally!) | |
| | | |
OUR FIRST LINKS!
HATS OF MEAT
THE TEXAS BEEF COUNCIL